Center for E-Commerce Infrastructure Development (CECID, under the auspices of Department of Computer Science) is an R&D center primarily funded by Innovation and Technology Fund (ITF). Since its establishment in 2002, CECID have been awarded 8 research projects with a sum of more than HK$50M funding, as well as industry sponsorship. Founded by the Center's Director, Professor David Wai-lok Cheung, the mission of CECID is to research and develop innovative and affordable e-commerce technology to enhance enterprise competitiveness. Its R&D results are well-received and widely-adopted locally and globally. The result of its first project, Hermes, a flexible messaging gateway for business document exchange, has received support from 80 economies around the world. Some of these adoption cases include large hubs in Hong Kong – Government Electronic Trading Services (GETS), E-Government Infrastructure Service (EGIS) and Digital Trade and Transportation Network (DTTN) – as well as the large energy grid (E.ON) in Europe and National Institutes of Health (NIH) in the United States.
What is Hermes?
E-commerce widens business opportunity by enabling enterprises of any size and in any geographical location to conduct business over the Internet. To harness the benefits of e-commerce, secure and reliable Business-to-Business (B2B) Messaging is the first step to be achieved. Yet, it is easier said than done for enterprises, especially SMEs, to adopt B2B messaging. Each day, millions of documents and information, such as purchase orders and invoices are exchanged between business partners. Among the obstacles hindering adoption of e-commerce are complexity of integration with existing computing systems, cost and security concerns. To overcome all these challenges, CECID has been developing a Universal Message Gateway for business document exchange – Hermes, coined after the Messenger of gods in Greek mythology, since 2002. Based on an open standard for e-commerce, Hermes enables information exchange, or messaging between machines of enterprises and their partners securely and reliably at low cost and with ease.
Robustness
The value proposition of Hermes is not limited to being a communication substitute to email and fax, or a low-cost alternative to Electronic Data Interchange (EDI). The messaging gateway's interoperability and ease of integration are Hermes' biggest assets. Its support of multiple message types makes it interoperable with documents in EDI, binary graphics, plain text and XML formats. Thanks to its well-designed architecture and open-sourced nature, Hermes is highly customizable to serve business needs and hence IT professionals can quickly develop plug-in programs to integrate Hermes with back-office systems. One of the beauties of Hermes is to optimize the usage of bandwidth and computer resource effectively. Hermes can tune itself on the number of concurrent tasks performed in each execution cycle. It also tunes the idle time between each cycle based on computation power. The optimization mechanism attempts to achieve maximum throughput by a given resource consumption.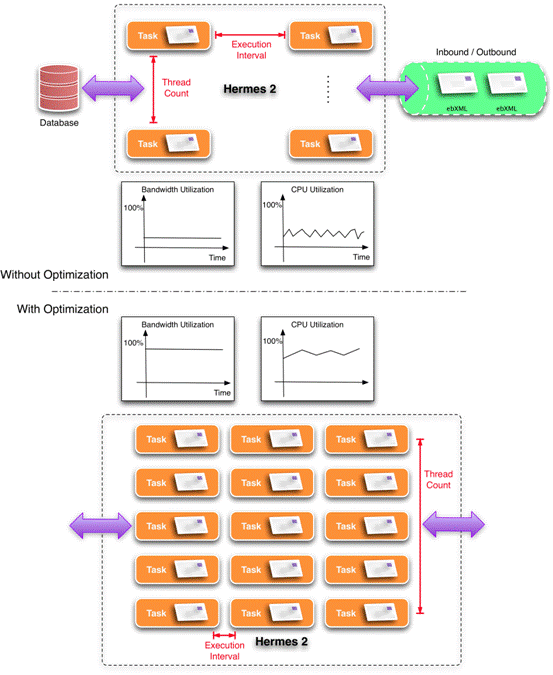 Hermes Optimization Mechanism
Standardization and Certified
To address the interoperability issue, Hermes is designed as a platform compliant with common public standards, like ebXML Message Service Specification (ebMS) ISO 15000-2 and Applicability Specification (AS2). Hermes has demonstrated ebXML interoperability through tests conducted with products developed by vendors and members in the ebXML Asia Committee. It has also passed the AS2 Interoperability Test organized by Drummond Group Inc., a US leading testing company.
Secure and Reliable
In terms of security and reliability, Hermes enables enterprises to send and receive business documents anytime without the risks of paper-based document loss and confidential data leakage during document exchange. Hermes utilizes widely-adopted internet security technologies, such as XML Signature, SSL (Secure Socket Layer) and S/MIME (Secure Multipurpose Internet Mail Extensions) to ensure secure messaging. Reliable delivery features, such as acknowledgement and retry mechanism, have been implemented in Hermes to ensure the exchanged message is received and intact.
Adopted for Mission-Critical Application
Passed all the stringent requirements, Hermes was adopted by the Office of the Government Chief Information Officer (OGCIO), Hong Kong SAR Government on mission critical application – Government Electronic Trading Services (GETS), a hub for the trading community to submit trade-related documents electronically to the government. The gateway handles an average of 56,000 trade messages each day. The government spent one year to screen various IT solutions, many of which were developed by large, well-known firms. Hermes was among the contenders. Not only technical features and functionality were a major consideration for GETS, but vendor neutrality and ease of customization, of which both contribute to total cost of ownership, also played a deciding factor in this evaluation exercise. After two months of continuous functional and stress tests were performed, the government selected Hermes for this large-scale, mission-critical trading service gateway. The new GETS system has launched since Jan 2010. Over 25 per cent of the GDP of our economy is related to GETS. CECID is proud that the locally-developed software will play a key role in one of the economic pillars of Hong Kong.
Smart File Reliable Messaging (SFRM)
Going beyond secure and reliable messaging, Hermes further supports large file exchange by means of an innovative file transfer protocol called Smart File Reliable Messaging (SFRM) developed by the Research Team at CECID. SFRM employs parallel sending mechanism for efficient delivery. By using SFRM, a large file to be transferred is split into small pieces and each piece can then be handled individually and concurrently. Since the transfer of each piece is manageable, SFRM can handle large file without demanding large amount of memory, storage and computing resources of the file transfer server. And the parallel sending algorithm is optimized in transfer throughput against resource consumption at the file transfer server.
A benchmark testing on SFRM and simple HTTP file transfer has been conducted by sending a 1GB file and a 50GB file from a HK server to a US server over the Internet. The results proved that SFRM performed much better than HTTP in terms of time, especially on sending large file.
| | | |
| --- | --- | --- |
| File size | Time used by SFRM | Time used by HTTP |
| 1GB | 5 min 17 sec | 26 min 26 sec |
| 50GB | 2 hour 27 min 30 sec | 22 hour 10 min |
What's next with Hermes?
To further enhance Hermes's scalability and performance, the Research Team at CECID is exploring how to leverage the new cloud computing paradigm in which computing resources are provided as a service through a network connection. With cloud computing, resource allocation and agility of Hermes are expected to be further enhanced.
To learn about Hermes, please visit the project webpage at http://www.cecid.hku.hk/hermes.php