Professor Komura, Taku
PhD Tokyo
Professor

Tel: (+852) 2859 7072
Fax: (+852) 2559 8447
Email: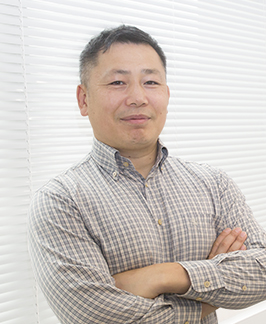 Taku Komura joined Hong Kong University in 2020. Before joining HKU, he worked at the University of Edinburgh (2006-2020), City University of Hong Kong (2002-2006) and RIKEN (2000-2002). He received his BSc, MSc and PhD in Information Science from University of Tokyo. His research has focused on data-driven character animation, physically-based character animation, crowd simulation, 3D modelling, cloth animation, anatomy-based modelling and robotics. Recently, his main research interests have been on physically-based animation and the application of machine learning techniques for animation synthesis. He received the Royal Society Industry Fellowship (2014) and the Google AR/VR Research Award (2017).
Research Interests
Physical simulation, Character animation, 3D modelling
Selected Publications
Mingyi Shi, Kfir Aberman, Andreas Aristidou, Taku Komura, Dani Lischinski, Daniel Cohen-Or, Baoquan Chen MotioNet: 3D Human Motion Reconstruction from Video with Skeleton Consistency ACM Transactions on Graphics (2020)
Muhammad Febrian Rachmad Maria del C.Valdés Hernández, Stephen Makin, Joanna Wardlaw, Taku Komura Automatic spatial estimation of white matter hyperintensities evolution in brain MRI using disease evolution predictor deep neural networks, Medical Image Analysis, 63 (2020)
Sebastian Starke, Yiwei Zhao, Taku Komura and Kazi Zaman Local Motion Phases for Learning Multi-Contact Character Movements , ACM Transactions on Graphics 39(4) , 2020 (Proceedings of SIGGRAPH 2020)
Floyd Chitalu, Qinghai Miao, Kartic Subr, Taku Komura "Displacement-Correlated XFEM for Simulating Brittle Fracture", Computer Graphics Forum 39(2), 2020 (Proceedings of Eurographics 2020)
Floyd Chitalu, Christophe Dubach, Taku Komura "Binary Ostensibly-Implicit Trees for Fast Collision Detection" , Computer Graphics Forum 39(2) , (Proceedings of Eurographics 2020)
Sebastian Starke, He Zhang, Taku Komura, Jun Saito, "Neural State Machine for Character-Scene Interactions", ACM Transactions on Graphics 38(6), 2019 (Proceedings of SIGGRAPH Asia 2019)
X Zhao, R Hu, H Liu, T Komura, X Yang, "Localization and Completion for 3D Object Interactions", IEEE Transactions on Visualization and Computer Graphics, 2019
Ian Mason, Sebastian Starke, He Zhang, Hakan Bilen, Taku Komura, "Few-shot Learning of Homogeneous Human Locomotion Styles" , Computer Graphics Forum, 37(7), 2018
He Zhang*, Sebastian Starke* (joint first authors), Taku Komura, Jun Saito, Mode-Adaptive Neural Networks for Quadruped Motion Control , ACM Transactions on Graphics 37(4),2018 (Proceedings of SIGGRAPH 2018)
Kangxue Yin, Hui Huang, Edmond S. L. Ho, Hao Wang, Taku Komura, Daniel Cohen-Or, Hao Zhang, A Sampling Approach to Generating Closely Interacting 3D Pose-pairs from 2D Annotations , IEEE Transactions on Visualization and Computer Graphics, 2018
Daniel Holden, Taku Komura, Jun Saito "Phase-Functioned Neural Networks for Character Control", ACM Transactions on Graphics 36(4), 2017 (Proceedings of SIGGRAPH 2017)
Xi Zhao, Myung-Geol Choi, Taku Komura, "Character-Object Interaction Retrieval using the Interaction Bisector Surface", Computer Graphics Forum 36(2), 2017 (Proceedings of Eurographics 2017)
Xi Zhao, Ruizhen Hu, Paul Guerrero, Niloy J. Mitra, Taku Komura, "Relationship Templates for Creating Scene Variations", ACM Transactions on Graphics, 35 (6), 2016 (Proceedings of SIGGRAPH Asia 2016)
Daniel Holden, Jun Saito, Taku Komura "A deep learning framework for character motion synthesis and editing", ACM Transactions on Graphics 35(4), 2016 (Proceedings of SIGGRAPH 2016)