July 18, 2016
"Scratch your Learning" Programming Competition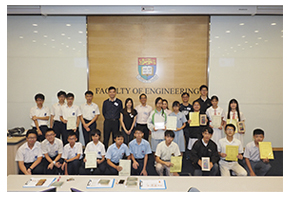 An Exhibition and Award Presentation Ceremony for the "Scratch your Learning" Programming Competition was held at HKU on 9 July, 2016. This competition, which aimed at enriching S1-S3 students' knowledge and experience in programming using Scratch, was organized by Christian Alliance Cheng Wing Gee College with the support from OGCIO of HKSAR Government and the Department of Computer Science of HKU.
Dr. Ivy K.Y. Wong, Dr. Beta C.L. Yip and Ms. Jolly M Y. Cheng from our Department were invited to be the judges of the competition. A total of 18 teams participated in the competition.
Before the competition, Dr. Ivy K.Y. Wong was invited to first present a talk on "Computer Game Design" on 24 June, 2016 which introduced basic concepts on game design and programming. Participants of this talk were able to learn the knowledge and elements required for designing computer games. Dr. Wong appreciates the effort made by the students in preparing for the competition, and she hopes that they can learn and enjoy computer programming through building their own games.
Dr. Yip is pleased to see how much junior secondary school students can do. He encourages the students to apply their programming skills to other areas of life, and hopes they can become good software developers and engineers in the future.
Ms. Cheng is glad to see so many students participated in this competition, and she hopes that this competition can inspire students to learn and apply their programming skills.
The list of winners at the ceremony can be viewed at:
http://www.cs.hku.hk/~syl/Winners.html
For more information about the competition, please visit:
http://www.cs.hku.hk/~syl/