July 15, 2016
Cyber Security Competition 2016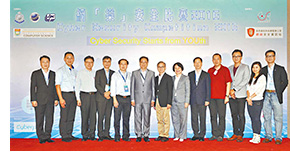 The first Cyber Security Competition was held from May 8 to July 9, 2016. It was jointly organized by the Police Public Relations Branch and Cyber Security and Technology Crime Bureau of the Hong Kong Police Force and the Department of Computer Science, assisted by the Cyber Security Information Portal of the Office of the Government Chief Information Officer and Hong Kong Computer Emergency Response Team.
The competition with the theme of "Cyber Security Starts From Youth" aimed at strengthening youngsters' alertness to cyber security and fighting technology crime. The competition, which consisted of three categories, namely the Primary Group, Secondary Group and Tertiary Group, attracted almost 5,600 participants.
Commissioner of Police, Mr Lo Wai-chung, Under Secretary for Innovation and Technology Dr Chung Wai-keung, Executive Director of the Hong Kong Productivity Council Mrs Mak Tang Pik-yee, and Programme Director of Master of Science in Computer Science Dr Chow Kam-pui, presented prizes and certificates to the winners on July 9, 2016.
Please click here for more details.