January 22, 2016
CS Graduates Won HK$100,000 Cash Prize from Cyberport University Partnership Programme 2015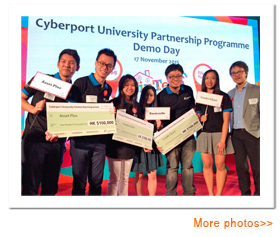 Two CS graduates, Au Tung Kin (MSc(CS) 2015) and Ng Siu Lung, Bryce (BEng(CS) 2015), were nominated by the University to participate in the Cyberport University Partnership Programme 2015. This programme provided them an opportunity to visit companies at Silicon Valley and to join a one-week entrepreneurship boot camp at Stanford Graduate School of Business. They presented their business ideas, a FinTech (financial technology) project named "Asset Plus" which was an automatic and personalized service for helping users to boost MPF return potential, on the Demo Day during the Global Entrepreneurship Week China - Hong Kong at Cyberport, and was awarded a cash prize of HK$100,000. They were also shortlisted for the Cyberport Incubation Programme interview.
Let's hear what Bryce and Kin say after their trip to Silicon Valley:
"As computer science students, we always want to start our business in technology to innovate our life. In this memorable trip, besides learning more about start-ups and entrepreneurship, we also had a chance to communicate with entrepreneurs and venture capitalists in Silicon Valley, and most important of all, to pitch in front of them. We met people of different background and made lot of friends, from business talents to software company founders.
The biggest lesson that we learnt from those entrepreneurs is that they will not fear of losing but only fear of losing opportunities. To achieve a bigger success, we need to step out of our comfort zone and do real work. We believe the journey of entrepreneurship has just begun, not limited to ours but also yours."