August 7, 2014
Dr K.P. Chow Receives Certified Cyber Forensics Professional
Credential from (ISC)²®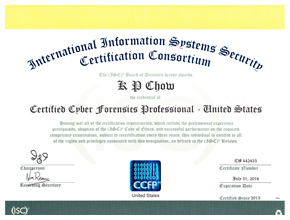 Dr K.P. Chow was awarded the "Certified Cyber Forensics Professional - United States" (CCFP) credential in 2013 by the International Information Systems Security Certification Consortium, Inc., (ISC)²® . He was the first person in both Hong Kong and China receiving the CCFP credential.
The CCFP credential indicates expertise in forensics techniques and procedures, standards of practice, and legal and ethical principles to assure accurate, complete and reliable digital evidence admissible to a court of law. It also indicates the ability to apply forensics to other information security disciplines, such as e-discovery, malware analysis, or incident response.
(ISC)²® is the global, not-for-profit leader in educating and certifying information security professionals throughout their careers. They are recognized for Gold Standard certifications and world class education programs in more than 135 countries.
Congratulations to Dr KP Chow for receiving this globally recognized credential.