April 4, 2014
Three CS Academic Staff Receive Awards for Excellence in Teaching, Research & Knowledge Exchange 2013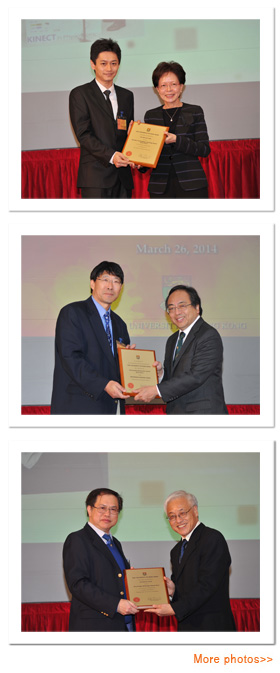 Three academic staff of the Department of Computer Science, Dr Chun-Kit Chui, Professor Wenping Wang and Dr K.P. Chow received their awards at the Award Presentation Ceremony for Excellence in Teaching, Research and Knowledge Exchange of 2013 held on March 26, 2014 at Loke Yew Hall.
Dr C.K. Chui received the Faculty of Engineering Outstanding Teaching Award; Professor W. Wang was one of the three recipients of the University Outstanding Researcher Award; and Dr K.P. Chow received the Faculty of Engineering Knowledge Exchange Award.
Staff and research postgraduate students of the Department were at the ceremony to congratulate and share the joy of the award winners for their remarkable achievements.
Please click here to view the video clipping played at the award presentation ceremony on Professor W. Wang and his research.
For more details regarding the awards obtained, please view the below news posted earlier:
Dr Chun-Kit Chui Receives Faculty Outstanding Teacher Award 2012-13
Professor Wenping Wang Receives HKU Outstanding Researcher Award
Dr K.P. Chow and CISC Receive Faculty Knowledge Exchange Award 2013