March 28, 2014
Ten CS Teachers and One Technical Staff Receive Long Service Award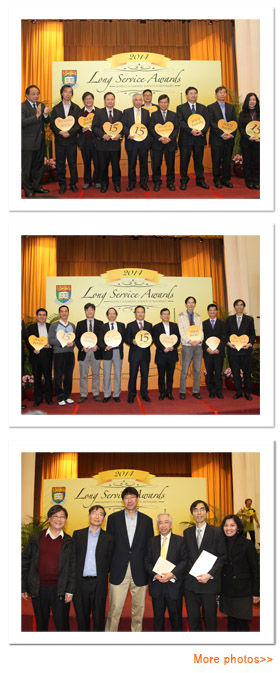 Ten teachers and one technical staff of the Department of Computer Science received Long Service Awards in 2014.
Dr H.W. Chan and Professor T.W. Lam have been serving the Department for 25 years; Dr K.P. Chan for 24 years; Professor Wenping Wang, Professor David W.L. Cheung and Dr H.F. Ting for 20 years; Professor Benjamin Kao and Professor C.L. Wang for 18 years; Dr S.M. Yiu for 17 years and Dr Lucas C.K. Hui for 15 years. We respect their loyalty to the University and greatly appreciate their immense contributions to the development of the Department.
Our Computer Officer, Mr Daniel Hung also received the Long Service Award for his 20 years of loyal service at the Department.