March 13, 2014
HKUCS Supports the First Kids Coding Day in HK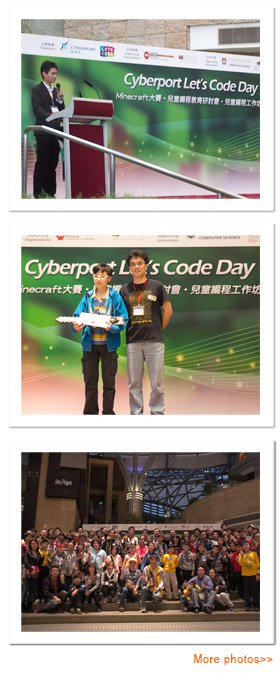 The Computer Science Department of HKU was one of the supporting organizations of the "Cyberport Let's Code Day", which was the first ever kids coding day in Hong Kong, held on March 1, 2014 in Cyberport. The programme comprised of the first Hong Kong Minecraft Competition, Code Education Seminars, and Coding Workshops. Over 300 parents, students and educators attended the event.
Dr Chun-Kit Chui of our Department, delivered a keynote speech titled "Promoting Computer Science Education in the HK Community - HKU CS" at the opening ceremony, and Professor Francis Lau of our Department was invited to be the Chief Judge of the Minecraft Competition. This event was free of charge and attracted over 550 applications from 130 primary and secondary schools to fight for the 50 finalist seats on the event day.
This event was organized by Let's Code (HK), which was an NGO dedicated to promoting coding education for young people in HK, and the Cyberport.