February 14, 2014
A Joint HKU-CUHK Team Receives Award at the Queen's Entrepreneur's Competition 2014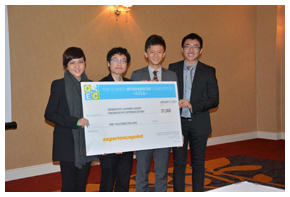 One of our BEng(CS) Year 2 students, Stirling Yeu Poon, together with three team-mates from CUHK received the Generative Learning Award (CAD$1,000) at the Queen's Entrepreneur's Competition (QEC) held in January 2014 at the Queen's School of Business in Kingston, Ontario.
The team is named "WeFoodie", and their business plan submitted for the competition was a smartphone application similar to an "Instagram for food". Users can upload food photos and details of the dishes, "like" and follow their friends' profiles, and the sponsored photos will be used for maintaining their revenue stream.
QEC is the largest international undergraduate business plan competition in Canada which brings together young entrepreneurs from around the world to compete for cash prizes. This year is the 25th anniversary of QEC, and the New York Times hails it as "one of the longest-running and best-known undergraduate business plan competitions in the world".