January 15, 2014
Two MSc(CS) Graduates with Members of CISC Receive Best Paper Award of ICCSA 2013 under WCECS 2013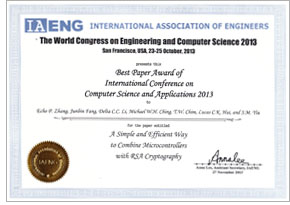 A paper entitled "A Simple and Efficient Way to Combine Microcontrollers with RSA Cryptography" was selected for the "Best Paper Award" of the International Conference on Computer Science and Applications 2013 (ICCSA) held under the World Congress on Engineering and Computer Science 2013 (WCECS) in San Francisco, USA on October 23-25, 2013.
This paper was co-authored by two MSc(CS) graduates, Mr. Delta C.C. Li and Mr. Michael W.H. Ching, and members of the Center for Information Security and Cryptography (CISC) namely Dr. Echo P. Zhang, Dr. J.B. Fang, Dr. T.W. Chim, Dr. Lucas Hui and Dr. S.M. Yiu. Both Delta and Michael were under the supervision of Dr. Lucas Hui during their MSc(CS) studies.
The WCECS 2013 was organized by the International Association of Engineers (IAENG), and there will be the selection for "Best Paper Award" in each WCECS conference. The submitted papers are judged on originality, significance, correctness, and clarity for the award. Only one paper received the "Best Paper Award" in ICCSA 2013.