May 4, 2010
Two HKU Teams Enter Imagine Cup Semi-Final
Two HKU teams beat 546 teams around the world and enter the Semi–Final of the 2010 Imagine Cup Game Design Competition. Members of these 2 teams are BEng(CS) students currently taking the Computer Game Design and Programming course instructed by Dr Vincent Lau and assisted by Mr. Chim Tat Wing (CS PhD candidate) of the Department of Computer Science.
The Imagine Cup is a technology competition opens to students around the world. The contest spans a year, beginning with local, regional and online contests whose winners go on to attend the global finals held in a different location every year. The objective of the Game Design competition is to create a new game that uses both Microsoft's XNA Game Studio 3.1 and Visual C#. The games developed are also required to illustrate the theme of the Imagine Cup – "Imagine a world where technology helps solve the toughest problems".
This year, a total of 696 teams (11 from HK and among them 6 are from HKU) participate in the Game Design Competition, and 150 teams (2 from HKU and they are the only 2 from HK) enter the semi–final.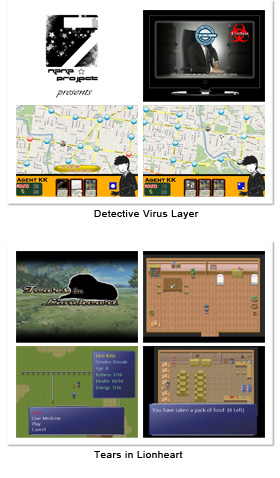 They are:
HKU Team: Nana
Members: Ho Chung Yin Billy (CS2), Ma Cheuk Kiu (CS2),
Ngai Ka Kit (CS2), Tse Ho (CS2)
Game developed: Detective Virus Layer
HKU Team: Sky Studio
Members: Cheung Chin Long Jeanno (CS2), Cho Jacky (CS2),
Fung Divine (CS2), Ho Kok Sum Ivan (CS1)
Game developed: Tears in Lionheart
Some statistics on Game Design contestants entering semi-final:
- 11 teams from HK and 2 enter semi-final
- 31 teams from China and 2 enter semi-final
- 11 teams from Taiwan and none enters semi-final
- 77 teams from India and 3 enter semi-final
Report of this news can be found at:
Ming Pao Daily
http://news.mingpao.com/20100512/gza4.htm