January 6, 2010
Dr Siu-Ming Yiu Receives HKU Outstanding Teaching Award 2009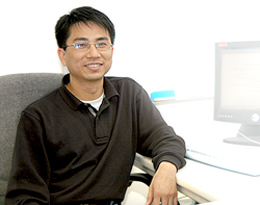 Dr Siu-Ming Yiu has been selected for the HKU Outstanding Teaching Award 2009 in recognition of his outstanding achievements in and commitment to teaching and supporting student learning.
Dr Yiu will receive a monetary award which can be used for academic purposes related to teaching and learning. His name will also be posted with the names of other awardees of the University Distinguished Teaching Award and Outstanding Teaching Award for a period of five years on a dedicated plaque to be installed on the Ground Floor of the Main Library.
Dr Yiu started providing teaching assistance to undergraduate courses when he first joined our Department in 1992 as a PhD candidate, and was awarded twice as the Best Tutor in 1994-95 and 1995-96. Up till now, Dr Yiu obtained the Departmental Teaching Excellence Award for six times and has been awarded twice as the Best Teacher in the Faculty of Engineering.