November 19, 2009
Research Project of CISC Appears at "InnoCarnival"
of Innovation Festival 09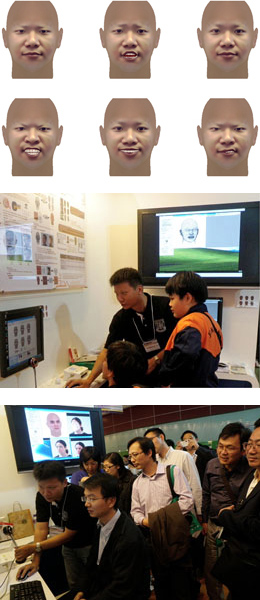 The Center for Information Security and Cryptography (CISC) introduced its ITC project "Robust Face Detection and Reconstruction Method that addresses inherent limitations in Face Recognition Technology" (ITS/174/08) at "InnoCarnival" of Innovation Festival 09 (IF 09) which was held at Hong Kong Science Park from November 5-8, 2009.
"InnoCarnival" was one of the major events of IF 09 which was launched by Innovation and Technology Commission (ITC). This event targets to enhance the youngsters' interest in innovation and technology, with a view to nurturing more talents, which in turn will help develop Hong Kong into a regional hub for innovation and technology.
There were over 2,000 people visited the project booth of CISC during the four
days of the event. By using the technology of Face Detection and Reconstruction, a 3D human face was built from single image with frontal or profile face of a visitor, then different facial expressions of the visitor were created and printed out as a custom-made gift.
For more details of this event, please visit the official web page of ITC at
http://www.itc.gov.hk/en/news/hot_20091005.htm.