September 1, 2009
Dr Siu-Ming Yiu Receives Best Teacher Award 2008-09 of
the Faculty of Engineering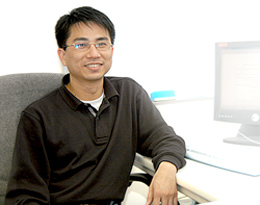 Dr Siu-Ming Yiu is selected as one of the two recipients of the Best Teacher Award 2008-09 of the Faculty of Engineering in recognition of his excellence in teaching and his contribution in promoting good teaching within the Faculty. He received the same award for the academic year 2004-05.
The teaching philosophy of Dr Yiu is to motivate students to learn; to teach them the fundamentals, how to think and how to self-learn. He will explore different teaching methods and approaches to fit students of different background. He will also keep track of their progress, understand their problems and provide appropriate assistance.
Dr Yiu has been consistently ranked at the top among teaching staff in our Department in evaluation exercises of courses by students, and received the Departmental Teaching Excellence Award for five times from 2001-02. Dr Yiu also received the Best Tutor Award for two times when he was a research postgraduate student in our Department.
Let's congratulate Dr Yiu on his achievement in good teaching!