August 17, 2009
CS Graduates Win Bronze Award at 2009 Amway Pan-Pearl River Delta Region Universities IT Project Competition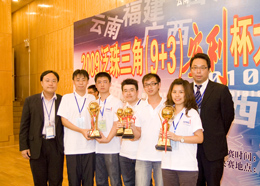 Three recent CS graduates, Mr. Hung Hing Cheong, Miss Leung Sze Ki and Mr. Yuen Wai Hung, won a Bronze Award at the 2009 Amway Pan-Pearl River Delta Region Universities IT Project Competition (泛珠三角安利杯大學生計算機作品賽) held on June 26 & 27, 2009 at the Yunnan University (雲南大學). A total of 43 projects from universities in Hong Kong, Macau, Taiwan and 9 provinces in the Pan-Pearl River Delta Region entered the final competition.
The name of the project submitted by our HKUCS graduates is "New Web-based Media and Social Entertainment Platform - Catch Dream" (新社交媒體及娛樂平台-唱享你). It was one of the 4 projects selected among 40 submissions at the Hong Kong regional competition held on June 13, 2009 to compete at the Grand Final in Yunnan.
This competition was co-organized by Internet Professional Association (iProA) and Yunnan Federation of Computers, together with IT Departments or Computer Societies of the participating provinces, and was sponsored by Amway (China) Limited Company.
You are welcome to visit the website of "Catch Dream" at:
http://www.catchdreamonline.com/
For more details of this competition, please visit:
http://www.csyn.ynu.edu.cn/anli/index.aspx