August 12, 2009
Dr Lucas C.K. Hui Serves as Panelist at Hong Kong/Guangdong Modern Information Services Industry Co-operation and Development Forum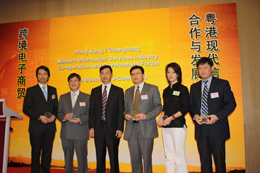 Dr Lucas CK Hui, Director of the Center for Information Security and Cryptography (CISC) in the Department of Computer Science, HKU, served as one of the panelists of the Hong Kong/Guangdong Modern Information Services Industry Co-operation and Development Forum - Cross-Boundary eCommerce Development (粵港信息服務業合作與發展論壇-跨境電子商貿) held on 10 July 2009 at Cyberport, Hong Kong.
The event was organized by the Office of the Government Chief Information Officer (OGCIO), and was held right after the Fourth Plenary Meeting of the Hong Kong/Guangdong Expert Group on Co-operation in Informatisation (粵港信息化合作專責小組第四次會議).
The discussion at the Forum consisted of two parts:
a) Academic Stream - developing the enabling environment for eCommerce development and cooperation opportunities (e.g. legal, business practice, and technical standards); and
b) Industry Stream - development of cross-boundary digital certification, and cooperation among certification authorities.
There were over 100 participants from government departments and academic, industrial and research sectors of the two places joining the Forum.
For more information, please feel free to visit the following web page at OGCIO:
http://www.ogcio.gov.hk/eng/itchina/egdhkegci.htm